Does your finished basement need a polished look when it comes to your windows? Our basement hopper windows create a great aesthetic for your beautiful basement living area. Our basement hopper windows let in natural light while improving airflow and ventilation.
At The Window Source of Indy, we have found the perfect solution for finished basements. Our basement hopper windows bring cost savings and energy efficient construction for both new and replacement windows.
Basement Hopper Windows Let in Light and Fresh Air
Our basement hopper windows are customizable, easy to operate, and are offered at an affordable price. We manufacture them to open inward on a horizontal axis which improves airflow, allows for easy cleaning, and won't interfere with the window wells or exterior landscaping.
These basement hopper windows are watertight with a tough seal that keeps your basement dry, even in Indianapolis' sometimes extreme weather conditions. They feature a superior vinyl casement material that provides attractive architectural detail to your basement interior while being energy efficient, maintenance free, and tough at the same time.
Your finished basement deserves attractive basement hopper windows that can bring maximum airflow in the summer and energy efficiency in the winter.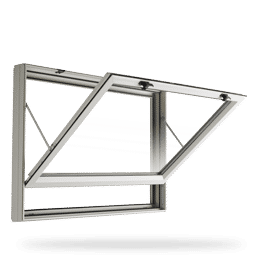 Our Basement Hopper Window Features
These windows offer superior protection with triple-barrier weatherstripping for inclement weather.
Energy-efficient design, including double insulated glass, allows you to keep your home comfortable while saving on costs.
These windows offer easy cleaning with the tilt-forward design.
With a tight seal, our basement hopper windows will stay secure and watertight.
Each of our basement hopper windows meets Energy Star requirements when paired with select glass packages.
Contact us for a free, no-obligation quote.